How To Stay Warm In Winter In fashionable Style
It is a tougher and a bit more strenuous effort to keep looking stylish when the temperature goes to zero in the winter months. Because layering your clothes is the key to keeping most of your body warm, there is a lot of variety in clothing that you can add to your wardrobe that will help you stand out as fashionable while providing extra warmth. But the question is"How to Stay Warm in Winter in fashionable style"? The answer is that if you keep focused, you can get a lot of use from various clothing and styles.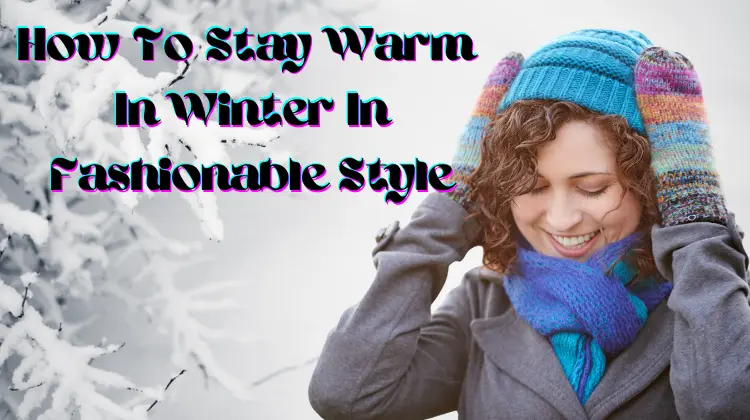 So in winter, your wardrobe is full of a lot of clothing to protect from cold weather. It is freezing weather, but it does not mean we have to give up on style. But it means we all must think creatively when getting dressed in the morning. Must Layers up yourself; do not ditch your trendy jackets for heavy-duty coats; they are necessary to keep you warm in winter.
There are some cold weather styling hacks, which are for looking chic and staying warm. In this article, I will help you with some tips on how you can stay warm in winter with style and fashion. Hance Considering these fashion ideas for staying toasty while you will look great this winter. Just because it is freezing out does not mean we have to collectively resign ourselves to giving up on style. It just means we all have to think a bit more creatively when getting dressed in the morning.
Some fashion ideas for staying cozy and warm in winter.
Wear layers.
Long coats wearing
Pair sweaters with skirts
Do not use cotton
Consider a statement coat.
How to Stay Warm in Winter
Wear three layers
You should wear the base layer of silk underwear, a merino wool turtleneck, and leggings. These should also be moisture-wicking to keep you warm without sweat. In the center layer, you can wear thick fleece for insulation. The winter coat is the best barrier against wind and rain for the last layer.
Styling Hacks
For your outer layer, use styling hacks to make your outfit chic. Some hacks will keep you warm with style and fashion. The more fabric closer to the body, the warmer you are. Select the heftier belts so they can balance the volume in chunky sweaters. Because thin never looks good. Wear styling clothing that suits your personality to create an exciting look. You can wear leather texture pants, heavy knits, or faux fur. You can also wear winter clothes like a heated vest and heated socks.
Keep clothes tight
As you know that tight-fitting clothing will prevent you from wind chill. You can also wear fleece tights or leggings under your skirts, pant, and dresses that keep your legs warm in the cold. You can also wear heated pants on your inner legging.
Wear long coats to warm in winter
Cropped puffers are trendy, but if you want to stay warm, you must cover your entire torso. Make sure you wear a long sweater, coat, or heated jacket for the coldest days.
Wear weatherproof clothing
Before winter, take out your favorite waterproof boots and polish them so you can wear them in winter. The waterproofing jackets that you need in the rain. But You find out that your shoe and coat have no holes, so they are helpful on a rainy or snowy winter.
Keep your hands warm.
When freezing outside, you need to warm up your hands, so keep your hands stuffed into your pockets as the only way to keep warm. Instead, keep them in your pockets and cover them with heated gloves or mittens. These Mittens will warm your hands because they hold your fingers together in a single pouch. At the same time, heated gloves give you more freedom to move and use your fingers. Whatever you wear, you can always give your hands an extra boost with some hand warmers.
Belt your coats for a new life
In winter, when you wear your dull long coat, but if you wear a new and stylish belt on your long, dull coat, it provides you a new and stylish look and makes it seem like you have a brand new coat.
Trendy Hats or Beanies
When winter starts, wear your winter dresses, clothing, boots, or coat. But head on which you do not pay attention, wear a hat to save yourself from cold. Trendy bucket hats are a stylish option for you. Another best point for you is to snag the matching scarf.
Select the correct type of Down
Down is a great thing to keep you warm; it is lightweight and insulating. Synthetic down is heavier but best in the rain. So for rainy weather, you need synthetic down or a separate rain shell to protect your down jacket.
Invest in wool.
Wool is typically warm material, so moisture-wicking wool keeps you warm and dry all day. If you feel wool itchy from merino and cashmere, then consider merino; it is lightweight wool that is great as a base layer. Cashmere is soft wool that offers you a cozy feeling,work-friendly, and comfy.
Fitted turtleneck, leggings
You can also wear fitted turtlenecks to give you a fashionable look. They offer you a fresh look every day of the week. You can easily wash up and line dries them. Fitted turtlenecks are knot for several uses and look great.
But you find them a little bit tighter and shorter in length. The leggings are the best option for layering. They have a streamlined design, which helps them fit under jeans and other pants without adding any bulk or extra seams. These are fit and snug but with lots of stretches.
Scarf and Earmuffs
The Canada Scarf is the best design for winter and has incredible versatility. It is a toasty shawl that makes you warm in a stylish look. A pair of earmuffs is also good to save you in the cold and look stylish. They protect your ears from the cold without flattening your hair out.
FAQS
How can you look warm and stylish?
These tips make you stylish.
Turtlenecks
Thermal tight
Hats or beanies
Long socks
Tall boots
Scarves
Nice jacket
How can I dress warm but not bulky?
The Base Layer Tops, which moisture wicking, Wool Blended Sweaters.Flannel Shirts for the inner layer. Thin, Packable Down Vest. All these dresses look warm but not bulky.
How can I dress in winter without jeans?
Winter outfit ideas do not include jeans, Leggings, and an oversized shirt. Leggings and a tunic dress.Soft pants and an off-the-shoulder top.Casual soft pants and long-sleeve.You can be Dressed up in soft pants.