Motorcycle Helmet Sizing Chart To Help You Choose Right
The best and proper motorcycle helmet sizing is one of the critical factors for safety and comfort. When your helmet is snug and aligned fit, it will guarantee a safe and secure ride. The best instrument for measuring your head is a seamstress tape measure. Another way to measure is to use a non-elastic cord to wrap around the head.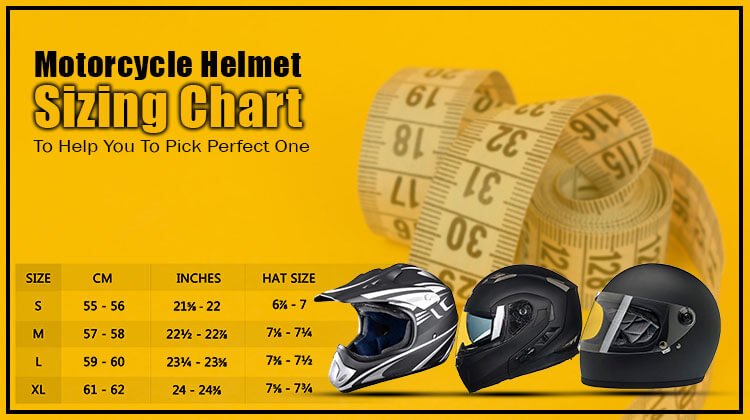 How to measure helmet sizing?
You can measure your helmet size, usually in 3 steps. In the first step, measure the perimeter of your head with tape and round the tape 1 inch above your head. In the second step, after determining your helmet size.
The helmet should be worn level on the head and not slide. If your helmet is extra-large, the use of padding will be helpful for comfort fitting. In the last step, before confirming your size, ensure the front of the helmet lays above your eyebrows and that the back of the helmet does not touch the collar of the neck.
Further, for helmet sizing, the best place to measure is two finger widths just above the eyebrows, above the ears, and around the most expansive area at the back of your head. But remember measuring tap should not be too tight.
Motorcycle Helmet Size Chart That will Help You Select Your Helmet
Shape of head
You should know the shapes of your head before buying your bike helmet. So it will benefit you to buy a perfect fit and correct size helmet.
Intermediate Oval: This shape of the head is most common. So, this shape is a bit longer from back to front, rather than side-to-side, measured from the forehead to the most significant area at the back of the skull.
Long Oval: This head shape is longer from front to back than side-to-side but typically measures longer than intermediate oval shapes.
Round Oval: Measurements front-to-back are closer in relative amount to side-to-side measurements.
Types of Motorcycle Helmets
There are different types and styles of Motorcycle helmets; every offer certain benefits according to the rider's needs. Some riders prefer complete all-face protection, while others like a lean approach that allows them to ride legally in those areas of states that have helmet laws. So you have many options to choose from:
Full Face Helmets
Open Face Helmets
Half Shell Helmets
ADV Dual Sport
Now you can clearly, decide the best motorcycle helmet for you. These helmets are most modernized with new technology, and you can find the best motorcycle helmet with Bluetooth and GPS. Further, you can also buy the best helmet with a built-in camera.
Road motorcycle helmets are lightweight, well ventilated, and aerodynamic. Further recreational helmets are economical and will offer essential impact protection for casual riding. Mountain bike helmets are well ventilated and stylish and provide extended rear head coverage.
Additional Tips for sizing Bike Helmet
The motorcycle helmet sizing numbers differ little among helmet brands, so always check the circumference of your head on the size you're considering again and again. Also, the same as shoes, so it is perfect for trying helmets at a store to see if one brand fits your head shape nicely.
For sizing, go with the smaller size than the large. A good-fitting helmet should be snug but not so tight. So your helmet should fit on your head with the front edge one inch or less above your eyebrows to protect the forehead. Push the helmet from side to side and back to front; you need to adjust the fit.